The Transfiguration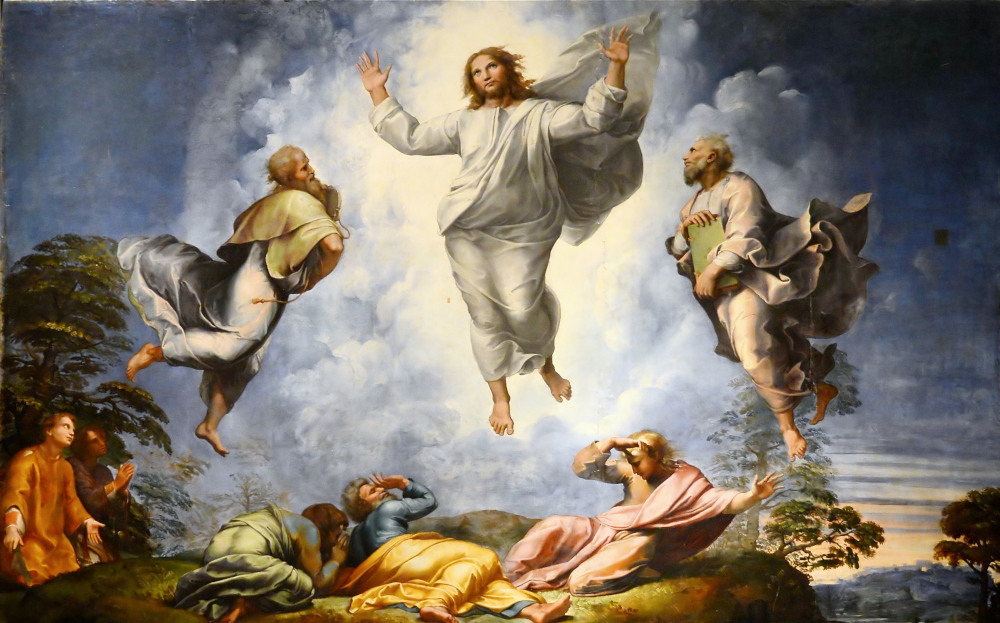 In the past week churches around the world have been celebrating the Feast of the Transfiguration, which commemorates the occasion on which Jesus went up the mountain to meet with Moses and Elijah, and was seen by his disciples wearing clothes of 'dazzling white'. In some accounts he is said to have shone with light like the sun.
While the psalm this week talks of raising your eyes to the mountain where help comes from – one can imagine the mountain which Christ went up – the theme of Christ as the Light of the World pervades much of our service. The song, for instance, talks of the "Light of the World, Christ our Lord, come be with us", while the Opening Antiphon talks about how God's light can illuminate all things, both good and bad.
Transcript
Introductory Prayer
May the Lord open our minds, hearts and mouths to sing and speak his praise.
Opening Antiphon
His light bursts out of the darkness and invades every corner of my world. When I open my eyes from sin, his light puts the world into sharp relief so I can see everything. What is good and what is evil are sunlight and shadow.

Lord of light, by your light, lead me in your ways
Psalm: Psalm 121
The Lord will keep you from all evil; He will preserve your soul
I will lift up my eyes to see the mountains from which my help comes.
My help comes from the Lord, who made all that is in the heavens and on the earth.
He will not allow anyone to do you harm, he will not sleep as he guards you.
See – he who looks after his people will not sleep nor rest.
The Lord is your keeper. He will give you shelter – he will be alongside you.
The sun will not touch you by day, and the moon will not reach you by night.
The Lord will keep you from all evil; He will preserve your soul.
He will watch your goings out and comings in, from now and forever.
Glory be to the Father, and to the Son and to the Holy Spirit. As it is, always has been and always will be, through the infinite ages. Amen.
The Lord will keep you from all evil; He will preserve your soul
Scripture Reading: Luke 9:28-36
And about eight days after he had said these things Jesus took Peter, John and James and went up the mountain to pray. And while he was praying his appearance changed and his clothes became dazzling white. And two men began talking with him – they were Moses and Elijah, who appeared in their glory. They were discussing Jesus's leaving, which he was to achieve in Jerusalem.

Peter and the others were weighed down by sleep, but they woke when they saw him standing gloriously with the two men. As these two were leaving him, Peter said to Jesus: "Master, it is so good for us to be here. We should make three tents: one for you, one for Moses and one for Elijah." He did not know what he was saying.

As he was saying these things, a cloud came over and cast shadow on them. And as they entered the cloud, they were afraid. And a voice came out of the cloud saying: "This is my son. I have chosen him. Listen to him." And at the sound of the voice Jesus was alone again. And they fell silent, and told nobody at that time about what they had seen
Canticle: The Magnificat
I am the Light of the World, says the Lord. All who live in the light will never die
My soul magnifies the Lord's greatness, and my spirit rises within me at the thought of God my Saviour.
As he has seen the humility of his servant, so future generations will all call me blessed.
Glorious and powerful, he has made me stronger: and his name is holy.
Never-ending mercies fall on all who fear him.
In his strength he has wielded strength; he has undone the proud through their own self-importance.
From their seats of power the mighty have been thrown; he has lifted the humble.
In his goodness he has given food to the hungry; cowering, the rich have been sent away with nothing.
All his people, from ancient times, have been supported by him: that was the promise he made to Abraham, and all our ancestors, for ever.
Glory be to the Father, and to the Son and to the Holy Spirit. As it is, always has been and always will be, through the infinite ages. Amen.
I am the Light of the World, says the Lord. All who live in the light will never die
The Prayers
We pray for the gift of light. For the ability to see clearly the path we should take. For the ability to see clearly the needs of others. For the ability to illuminate the dark parts in the lives of others, into which the Light of Christ may shine
In your goodness, hear us, O Lord
We pray for the church, that despite the challenges of our times – pandemic, climate change, economic uncertainty, political upheaval – she may keep true to God's word, and take his people to their promised destiny of eternal life with God
In your goodness, hear us, O Lord
We pray for the poor and the needy; for the hungry and the unclothed; for the homeless and those unjustly imprisoned. May we, the people whom God calls, find in our charity the means to help them, to bring God's word to them, to bring them his love and the news that we are all equal in his light
In your goodness, hear us, O Lord
We pray for the sick and the dying; that they may find comfort and peace. May the healing of the Spirit, the comfort of the Father and the words of Son be with them
In your goodness, hear us, O Lord
We pray for the dead, who now inhabit that realm of light of which we can only imagine. There, with the angels and saints and the many generations of God's people, may they forever be praising his name in the eternal banquet set out for all
In your goodness, hear us, O Lord
Our Father, who art in heaven, hallowed be thy name.
Thy kingdom come, thy will be done on earth, as it is in heaven.
Give us this day our daily bread, and forgive us our trespasses, as we forgive those who trespass against us.
And lead us not into temptation, but deliver us from evil.
For thine is the kingdom, the power and the glory, for ever and ever.
Amen
May the Lord keep us day and night in his care, safe in the hope of eternal joy. Amen