First Sunday after Easter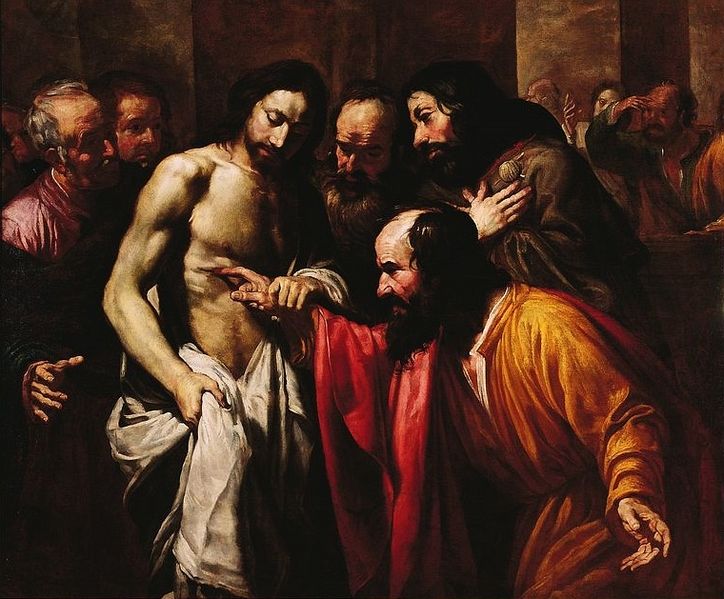 The First Sunday after Easter (which some denominations call the 'Second Sunday of Easter') is also often referred to as 'Low Sunday' – after the burn-out celebrations of Easter itself, everybody is in the mood for a break. Choirs are on holiday, congregants are (in a normal year!) away, priests want to take it easy.
But the mood is still one of triumph. You cannot quickly forget the Resurrection, and this week's service hopes to pick up on that mood.
Our bible reading this week is from John, and tells of Thomas's brief moment of doubt. He didn't see the Risen Lord with the rest of the disciples, so he is suspicious – maybe they're tricking him, maybe they've been hoodwinked or too quick to believe?
So when Jesus comes to them again a week later, Thomas wants physical proof, which Jesus provides by inviting him to touch the wounds in his hands and his side. Thomas believes – this Jesus is not a ghost or apparition. And Jesus goes on to invite us to believe, too – we do not have the opportunity to touch the Risen Lord physically, but we can do so spiritually, which will give us a greater blessing.
Our song this week is King of Glory, to the words by George Herbert. It is a hymn expressing faith and praise, yet acknowledging that our earthly praise is nothing compared to the praise that we shall give when we share eternity with him.
Easter has inspired many great works of literature over the years, much of which was included in the church's services down the years. Our two antiphons this week are based on one such text, the Victimae Paschali (translation: Christians, bring your Easter praises to the Victim of the sacrifice). The immediacy of the words ("I saw the risen Christ", "I saw the graveclothes") lead to the line "Now we know that Christ has risen from the dead".
Our psalm is Psalm 117, which includes the great image of Jesus as the cornerstone and of the power of God (which is referred to as 'his Right Arm').
The opening Antiphon talks of the freeing of the soul by faith in the Resurrection.