Fifth Sunday after Pentecost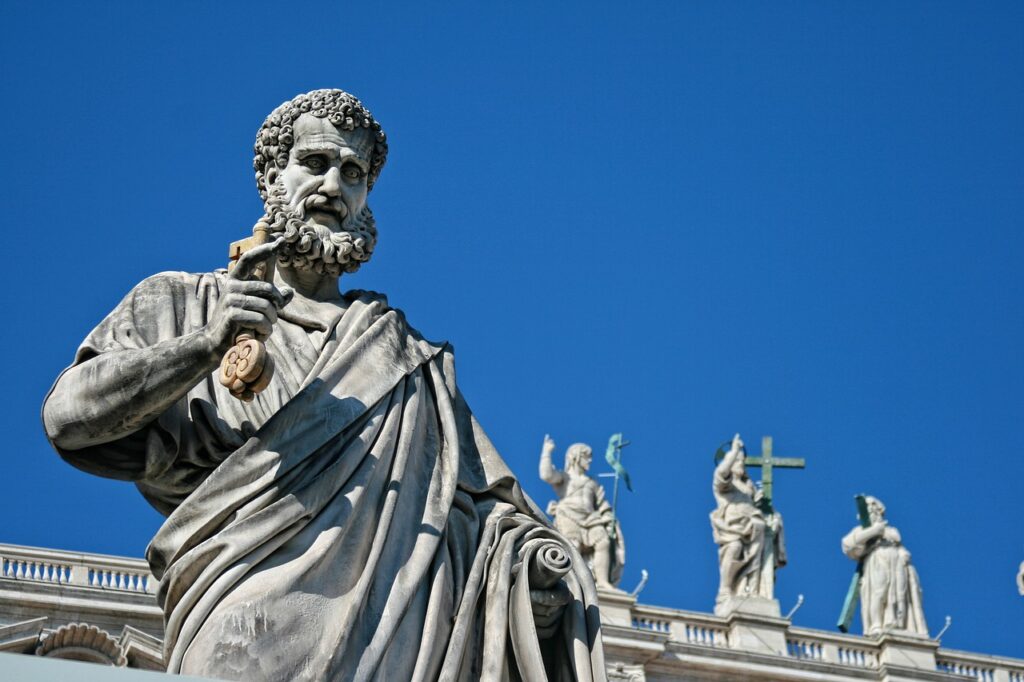 This week our scripture reading is from the Gospel according to Mark, and tells the story of how Jesus raised Jairus' daughter from the dead. His household insisted that, sadly, the girl was dead and that Jesus should not be troubled. But Jairus had faith in Jesus. He knew that his daughter could be saved. And Jesus tells him that he is right: "Simply believe," he says. And, of course Jairus' faith was rewarded, as Jesus does indeed tell the young girl to rise with the words "Talitha kum" – "Little girl, get up". As the Magnificat's antiphon reminds us, Jesus said "I am the resurrection and the life. All those who believe in me will never die."
Our psalm is psalm 30, which reflects the feelings of those involved in the gospel story – despite all the bad things which life might throw in our way, God will come through for us, and turn our tears into dancing. We will sing his praise.
One small detail of the gospel reading opens up another aspect of today's service – Jesus invited into the girl's room with him the child's parents, and some of his disciples, including Peter. This coming week (29th June, in fact) sees the Feast, celebrated in some churches, of Saints Peter and Paul, two great founding figures of the Christian faith. We remember them today, along with the many other saints and holy people who have gone before us – and who are with us now – in our song Saints of God, as well as in the Opening Antiphon in which we promise to rouse up the whole world in the praise of God.
If you want to hear the service online, it's at here on YouTube.
A full transcript of the service:
Introductory Prayer
May the Lord open our minds, hearts and mouths to sing and speak his praise. Alleluia. Amen
Song: Saints of God, come to our aid. Pray for us
Opening Antiphon:
I will urge everyone to honour God. I will tell all people to sing to him and to call on his name. I will get them to clap their hands, play their trumpets and guitars in his praise.
With the saints, with his holy ones, with his faithful of all times and all places I will dance!
Psalm 30
Hear me, O Lord, have mercy on me and I will praise you for all time
I will sing your praise, O Lord, for you have lifted me up, and have not let my enemies rejoice over me.
Lord, my God, I cried out to you, and you healed me.
Lord, you raised my soul from the deep grave, you have kept my soul alive.
Sing praises to the Lord, you holy ones of his: give thanks as you remember his holiness.
His anger is brief; his kindness lasts for ever. Tears may last for the night, but the morning brings joy.
And I said "With the riches I receive from God, I will stay constant".
Lord, through your kindness you have established my strong fortress; but when you hid your face, I was troubled.
Lord, I cried out to you; I prayed to you.
What point is there in my life if I end up in the dark pit? Will the dust praise you? Will it declare your truth?
Hear me, O Lord. Have mercy on me. Help me.
You have turned my tears into dancing; you have taken away my mourning clothes and given me the clothes of gladness.
I will not be silent. I will sing your praise! Lord, my God, I will give you thanks through all time
Glory be to the Father, and to the Son and to the Holy Spirit. As it is, always has been and always will be, through the infinite ages. Amen.
Hear me, O Lord, have mercy on me and I will praise you for all time
Scripture reading
Mark 5:21-24, 35-43
Jesus crossed again to the other side of the lake in the boat. A great crowd had gathered there, alongside the sea, to meet him. One of the synagogue leaders – his name was Jairus – came up to him. Seeing Jesus, he fell at his feet and begged him, saying "My little daughter is dying. If you lay hands on her, you would cure her, and she would live."
Jesus went with him, surrounded by a large crowd, jostling and shoving.
Then some of the people from the synagogue official's household came to him and said "Your daughter is dead. Why are you still bothering the teacher?" And Jesus, hearing what had been said to Jairus, "Do not fear. Simply believe."
He allowed no one but Peter, James and John – James' brother – to follow him. They came to the official's house, and Jesus saw a commotion, with much weeping and wailing. Entering, he said to those who were there, "Why do you make such a commotion? Why are you crying? The child is not dead – she is simply sleeping."
But they just laughed at him.
But, having told everyone else to leave, he took the child's father and mother, and his disciples, with him and entered the room where the child was. And taking the child's hand he said, "Talitha kum", which translates as 'Little Girl, I tell you, get up'. And the girl immediately did as he said, and began walking – for she was twelve years old.
And those with him were besides themselves with amazement. But Jesus instructed them that nobody should know about this; and he gave instructions that she should be given something to eat.
Canticle: The Magnificat
I am the resurrection and the life. All who believe in me will never die. Alleluia
My soul magnifies the Lord's greatness, and my spirit rises within me at the thought of God my Saviour.
As he has seen the humility of his servant, so future generations will all call me blessed.
Glorious and powerful, he has made me stronger: and his name is holy.
Never-ending mercies fall on all who fear him.
In his strength he has wielded strength; he has undone the proud through their own self-importance.
From their seats of power the mighty have been thrown; he has lifted the humble.
In his goodness he has given food to the hungry; cowering, the rich have been sent away with nothing.
All his people, from ancient times, have been supported by him: that was the promise he made to Abraham, and all our ancestors, for ever.
Glory be to the Father, and to the Son and to the Holy Spirit. As it is, always has been and always will be, through the infinite ages. Amen.
I am the resurrection and the life. All who believe in me will never die. Alleluia
Prayers
We pray for the gift of the Holy Spirit. We ask that patience, kindness, goodness, faith, gentleness and self-control as well as love, joy and peace may descend on us.
In your goodness, hear us, O Lord
We pray for the poor, for the homeless, for the hungry and thirsty. May all those who are displaced or who lose out because of war, violence, politics or climate change find equality, and riches from God
In your goodness, hear us, O Lord
We give thanks for the example of the Saints, and the holy men and women who have gone before us – and those who live with us now. May we take their examples, and reflect them in our own lives, praising, suffering and sharing in God
In your goodness, hear us, O Lord
We pray for the sick. Give them the healing they yearn for, O God of all. May the Spirit of healing and the hand of Christ, who cured the sick and raised from the dead, be on them all. May they know love, comfort and quiet calm
In your goodness, hear us, O Lord
And we pray for the dead, who have left this life to join the heavenly host who forever stand at the Lord's side, praising him and joining their voices with the angels and saints in that endless hymn of eternal praise
In your goodness, hear us, O Lord
Our Father, who art in heaven, hallowed be thy name.
Thy kingdom come, thy will be done on earth, as it is in heaven.
Give us this day our daily bread, and forgive us our trespasses, as we forgive those who trespass against us.
And lead us not into temptation, but deliver us from evil.
For thine is the kingdom, the power and the glory, for ever and ever.
Amen
Final Prayer
May the Lord keep us day and night in his care, safe in the hope of eternal joy. Amen