14th Sunday After Pentecost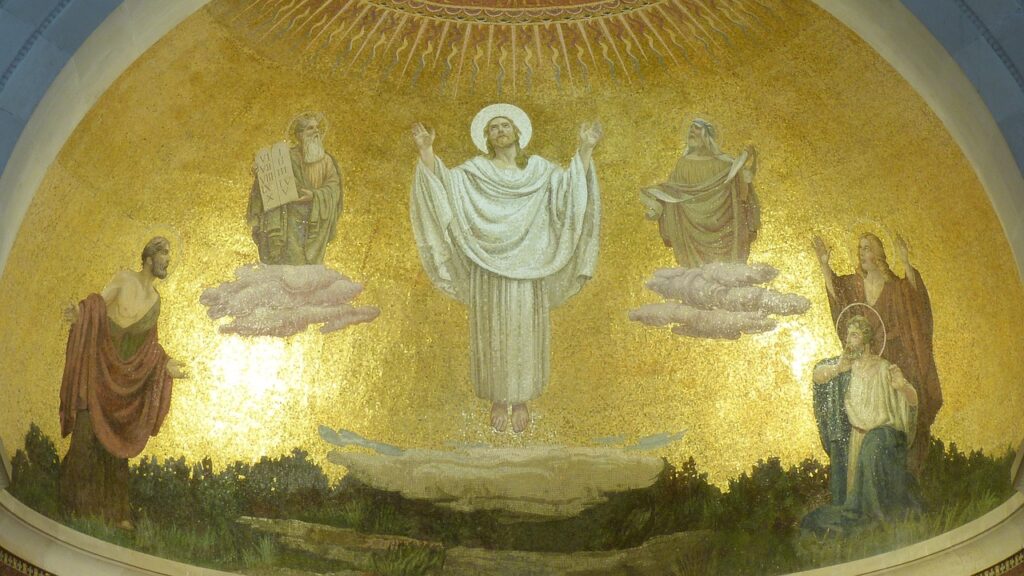 For the 14th Sunday after Pentecost we remember reports of how the early apostles lived in Jerusalem, and how they were received there by the people.
They kept no possessions, we are told, but were still rich in the things which were donated to them – however, those things they also handed on, so that nobody went without. And at the same time, they were working signs and miracles so that the Jerusalem crowds praised them.
Transcript
Introductory Prayer
May the Lord open our hearts, minds and mouths to sing and speak your praise. Alleluia. Amen
Song: King of Glory
Opening Antiphon
In the gathering of the saints is great wealth. Their holiness excels all things; their prayers burn sins away like fire; their touch heals.
The Lord rejoices in his saints, and as we move among them we, too, can rejoice. May I, one day, be worthy to share heaven with them
Psalm 86
For the Lord is great, rich in mercy, abundant in love, and has done wondrous things
O Lord, put your ear near me so you can hear me: for I am poor, and in need.
Save my life, for I have been good and holy. Keep me safe, for you are my God and I am your servant, who trusts in you.
Lord, be merciful to me, for I call out to you all the day long.
Be joyful in the soul of your servant, because I lift up my soul to you.
For you, Lord, are good and forgiving. You are lavish in your mercy to those who call on you.
Open your ear to my prayer, listen to my voice when I plead to you.
I will call on you in that day when I am in trouble, and you will answer me.
There is none like you among the Gods. Nothing compares to the things you have done.
All the nations you have made will come and before you and will glorify your name.
For you are great, and you alone, O God, do wondrous things.
Lord, teach me your way and I will walk surrounded by your truth. Make my heart fear your name.
I will praise you, O Lord my God, with all my heart; and I will glorify your name for all time.
For your mercy is great towards me; you have rescued my soul from the depths of Hell.
O God, the arrogant have risen up against me, and a violent mob has sought my life – they did not have you as their guide.
But you are the Lord. You are a compassionate God. Gracious, slow to anger and rich in mercy and truth.
Turn to me, and have mercy on me. Give me, your servant, your strength and save me, your servant's son.
Show me a sign of your goodness, so that those who hate me can see it and be ashamed because you, O Lord, have helped me and comforted me. Glory be to the Father, and to the Son and to the Holy Spirit. As it is, always has been and always will be, through the infinite ages. Amen.
For the Lord is great, rich in mercy, abundant in love, and has done wondrous things

Scripture Reading: Acts 4:32-35 and 5:12-16
And the the believers were one in heart and mind. None of them possessed anything which they claimed to be only theirs, but they shared everything in common. And the apostles witnessed, with great power, to the resurrection of the Lord Jesus. They were all filled with grace. None of them lacked for anything. Those who had owned land or houses sold them, and they brought the proceeds and laid them at the feet of the apostles. And the wealth was then distributed, as each person needed.
By now many signs and wonders were being carried out among the crowds at the hands of the apostles. And they were of one accord and would meet together in the Portico of Solomon. No one dared join them, but the crowd praised them greatly, and more and more came to believe in the Lord, both men and women. They would even bring their sick, on beds or mats, and put them in the street so that, if Peter passed by, his shadow at least might cover them. And crowds also came from the cities around Jerusalem, bring the sick and those who were tormented by unclean spirits; and they were all healed.
Canticle: The Magnificat
The apostles worked many signs and wonders, sharing possessions and praying together. Alleluia
My soul magnifies the Lord's greatness, and my spirit rises within me at the thought of God my Saviour.
As he has seen the humility of his servant, so future generations will all call me blessed.
Glorious and powerful, he has made me stronger: and his name is holy.
Never-ending mercies fall on all who fear him.
In his strength he has wielded strength; he has undone the proud through their own self-importance.
From their seats of power the mighty have been thrown; he has lifted the humble.
In his goodness he has given food to the hungry; cowering, the rich have been sent away with nothing.
All his people, from ancient times, have been supported by him: that was the promise he made to Abraham, and all our ancestors, for ever.
Glory be to the Father, and to the Son and to the Holy Spirit. As it is, always has been and always will be, through the infinite ages. Amen.
The apostles worked many signs and wonders, sharing possessions and praying together. Alleluia
The Prayers
As the apostles shared among themselves, so we pray that we may learn to share, especially in making good use of the world's resources. May we, O Lord, be guardians of all that is good

For our family and friends. Guard them, Lord; keep them safe from the dangers of this world, both physical and spiritual; bring them closer to you and keep them safe for us

We pray for those in the news and the media industries. May they always be seeking to bring the truth – encouraging, nurturing and informing

We pray for justice across the world. In an era where racial and gender equality are increasingly under the spotlight, we ask God to bring justice to all, and to help us to work towards his true kingdom and its purpose

We pray for the sick – those known to us, and those whom we don\'t know. As Christ and the apostles healed, heal them, comfort them, and be with them. And we pray for the dead; may their place in the eternal kingdom be forever assured

Our Father, who art in heaven, hallowed be thy name.
Thy kingdom come, thy will be done on earth, as it is in heaven.
Give us this day our daily bread, and forgive us our trespasses, as we forgive those who trespass against us.
And lead us not into temptation, but deliver us from evil.
For thine is the kingdom, the power and the glory, for ever and ever.
Amen
May the Lord keep us day and night in his care, safe in the hope of eternal joy. Amen