13th Sunday after Pentecost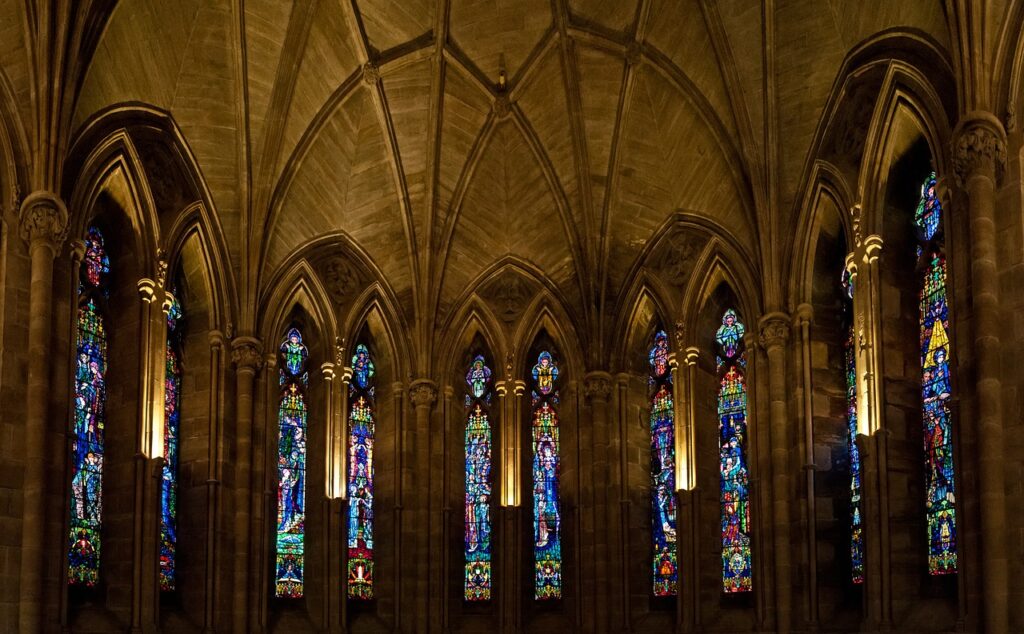 This week's online service, which is on our YouTube channel at https://youtu.be/rh_YG8Gd5z8, has as its central reading the passage from St Matthew's gospel in which Peter proclaims that Jesus is the Christ, the Son of the Living God.
The message is one of faith. Our faith relies on God shepherding us – as the song The Lord is My Shepherd explains – while our psalm shows that our faith is one of praise in return for that shepherding.
Transcript
Introductory Prayer
May the Lord open our minds, hearts and mouths to sing and speak his praise. Alleluia. Amen
Song: The Lord is my Shepherd
Opening Antiphon
In my uncertainty lies the root of my faith. My trust is in you, but I do not always believe your commands. Lord, be my Rock.

Show me the path to follow. Teach me your ways, Lord. Engrave them on my heart and programme them into my feet, and I will stand firm. Lord, be my Rock
Psalm 67
The earth belongs to the Lord. Let its peoples praise him with all their heart
God, have mercy on us. Bless us. Let your face shine on us.
Let your way be known on earth, and your salvation be seen among all nations.
Let the people praise you, O Lord; let all the people praise you.
O let all nations sing for joy, because you will judge the peoples with correctness; and you will govern all nations on the earth.
Let the people praise you, O Lord; let all the people praise you.
Then the earth will provide abundantly. God, our own God, will bless us.
He will bless us and all the ends of the earth shall fear him.
Glory be to the Father, and to the Son and to the Holy Spirit. As it is, always has been and always will be, through the infinite ages. Amen.
The earth belongs to the Lord. Let its peoples praise him with all their heart
Scripture Reading: Matthew 16:13-17
And when they had come to the district of Caesarea Philippi, he asked his disciples: "What are people saying about me, the Son of Man?"

And they replied "Some say you are John the Baptist, some say you are Elijah, others reckon Jeremiah or one of the prophets." And he said to them, "But you, what do you say that I am?"

And Simon Peter answered: "You are the Christ, the Son of the Living God."

And Jesus said to him: "You are blessed, Simon, son of Jonah; since mortal flesh and blood have not revealed this to you, but rather you have been shown this by my Father who is in heaven."
Canticle: The Magnificat
From the corners of the earth, to the limits of the heavens, the Lord reigns. Alleluia
My soul magnifies the Lord's greatness, and my spirit rises within me at the thought of God my Saviour.
As he has seen the humility of his servant, so future generations will all call me blessed.
Glorious and powerful, he has made me stronger: and his name is holy.
Never-ending mercies fall on all who fear him.
In his strength he has wielded strength; he has undone the proud through their own self-importance.
From their seats of power the mighty have been thrown; he has lifted the humble.
In his goodness he has given food to the hungry; cowering, the rich have been sent away with nothing.
All his people, from ancient times, have been supported by him: that was the promise he made to Abraham, and all our ancestors, for ever.
Glory be to the Father, and to the Son and to the Holy Spirit. As it is, always has been and always will be, through the infinite ages. Amen.
From the corners of the earth, to the limits of the heavens, the Lord reigns. Alleluia
The Prayers
With Peter, we acclaim Christ as the Son of the Living God. Give us the faith, Lord, to hold his example before us as we witness to your love and your law in the world
At the end of one week and the start of another we give thanks for the unity of the church. In its differences the church seems divided; but in you, it is united in the causes of justice, equality and the perfection of your eternal truth
We pray for those who are returning to their education – those who have already started, those who are returning soon. May they be eager to learn, explore, research. And we pray for those who, for whatever reason, are denied an education. May their learning be through you
For the sick. At this time, in particular Lord, we pray for those contracting and suffering from the coronavirus; for those looking after them, those researching cures, and for their relatives. We remember in our prayers, though, all others suffering illness and injury
And we pray for those who have died; the recently departed and the long-dead; those known to us, and those unknown; those who are mourned, and those who are forgotten. May they all find their eternal home with you, and your son, in the glorious promised kingdom

Our Father, who art in heaven, hallowed be thy name.
Thy kingdom come, thy will be done on earth, as it is in heaven.
Give us this day our daily bread, and forgive us our trespasses, as we forgive those who trespass against us.
And lead us not into temptation, but deliver us from evil.
For thine is the kingdom, the power and the glory, for ever and ever.
Amen
May the Lord keep us day and night in his care, safe in the hope of eternal joy. Amen